---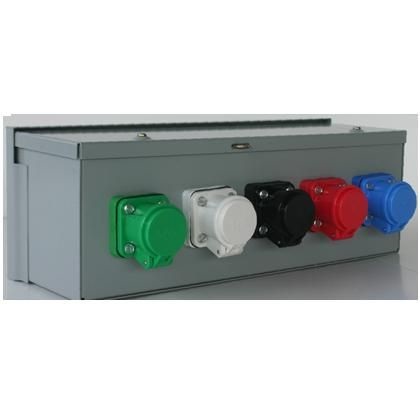 Hoffman Trough, 3-Phase System, Marinco
Part No. HWT-O-3-DSS-6

$ 363.26
/ ea.
Three-phase output panel built with (5) Marinco® CLS Series 16 Double Set Screw Female panel mount receptacles mounted in a 6" x 6" x 18" Hoffman Trough (A6618RT). NEMA 3R Snap Back Covers in matching colors are installed on the Female Receptacles for keeping out debris and promoting safety. Color coded Green, White, Black, Red and Blue.
Please note that the Receptacles will accept up to 4/0 AWG cable but the Amp rating on the trough is determined by wire size.
Available in either Double Set Screw (DSS) or Threaded Stud (TS) style Receptacles. Double Set Screw styles will come with set screws & copper shims.
Part #E1016-Hardware, 1-1/8" hardware kit is available for mounting the Receptacles with Snap Back Covers.
Part #E1016-Brass Hardware hardware kit is available for mounting lugs on the Threaded Stud style Receptacles.